Banquets Today, Memories for a Lifetime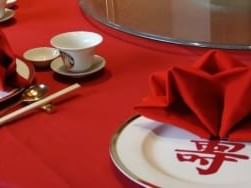 Wedding banquets are celebrations of promises made to a lifetime of commitment, cherishment, and love. Vows will be exchanged, toasts will be made, and photos will be taken – A night of revelry awaits the newlyweds, their family, and their friends.
Your once-in-a-lifetime milestone deserves nothing but the best. Grand Shanghai is committed to delivering spectacular, majestic nights of enjoyment for everyone. If a big celebration is on deck, check in with us to uncover the motifs that make the Grand Shanghai wedding banquet a stately and truly memorable affair.
Dance with us – 'Live' Entertainment
When marimba rhythm starts to play, be transported to 1930s Shanghai with a repertoire of oriental classics that will make you sway to the beat. Celebrate your big occasion with the trio of musicians and beguiling songstresses who are apt at stripping a song down to its fundaments and weaving chords of elegance back into the existing melody.
Whether it is a spunky jazz melody, a classic Chinese evergreen, or a slow blues number, sit back, relax, and allow us to spin a tune for you and your guests on your special night.
Request for the songs that bring back the most nostalgia for you, and the Grand Shanghai band will gladly master it for your march-in.
Taste traditions – Bliss Pastries — 喜饼 (Xi Bing)
Traditionally sent together with wedding invitations as a symbol of gratitude to the bride's parents, handmade bliss pastries are delivered as a congratulatory door gift to each guest at the banquet.
Grand Shanghai's bliss pastries are as sweet as the new union. Bite sized at 3cm in diameter, the pastries are filled with a concoction of saccharine dried dates and grapes to symbolise a blissful matrimony.
Celebrate the most momentous occasion with the taste of tradition at Grand Shanghai.
Fill your plate – Authentic Shanghainese Cuisine
Grand Shanghai serves culinary treasures of Shanghai in the Roaring 30s: fresh, succulent seafood, opulent meats, and rich staples reminiscent of Old Paris of the East. Like smooth silk and replete with savourous delights, Grand Shanghai's dishes are rooted deeply to their oriental origins.
Pick your favourite dishes for a lavish 9-course banquet meal at Grand Shanghai. Share special requests with us, and allow us to create a menu that best fits your preferences.
We ensure that the banquet you throw is uniquely your own, and we strive to create the perfect wedding banquet experience that will leave you and every guest with beautiful memories for a long time.
---
Create the grandiose memories of a lifetime when you make reservations for a wedding banquet dinner (of 20-28 tables) with us. Private banquet prices start from $20,000, complete with complimentary angbao carriers for guests, a bottle of wine for each table, and champagne for toasting.
The art of throwing the perfect banquet is a one marked by good planning and choices in design, food, and venue. Trust Grand Shanghai to breathe a deeply quintessential Shanghainese air onto the memories you create.